The FYBS Gyratory sifter is a new type screening machine with high capacity and precision in the production. It is used in a variety of industries and fields and has a high screening ability. The working principle is: the motor drives the vibration exciter to rotate through belts, It generates eccentric inertial centrifugal force by a counterweight mounted on the exciter, make the screening case moved and do the plane gyratory motion, the materials on the screening mesh will do a elliptical motion with the angle of screen surface. We will increase or decrease the quantity of counterweights according to different materials' characters, and adjust the frequency to meet a high screening efficiency requirement.
Square gyratory sifter is widely used in chemical, food, plastics, agriculture and minerals, such as: quartz sand, Potash, Salt, Clay, Borax, calcium carbonate and so on.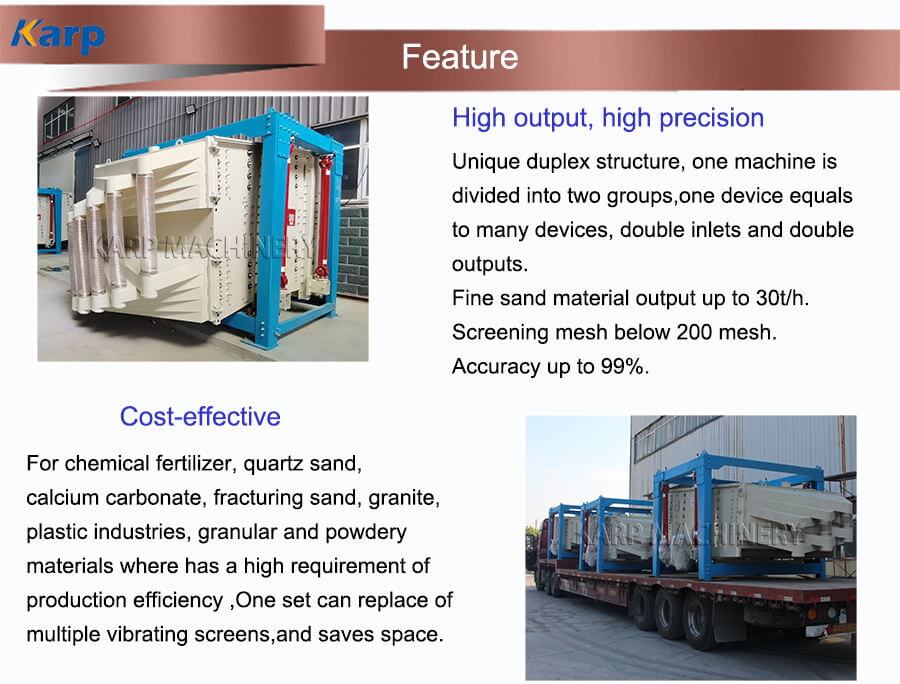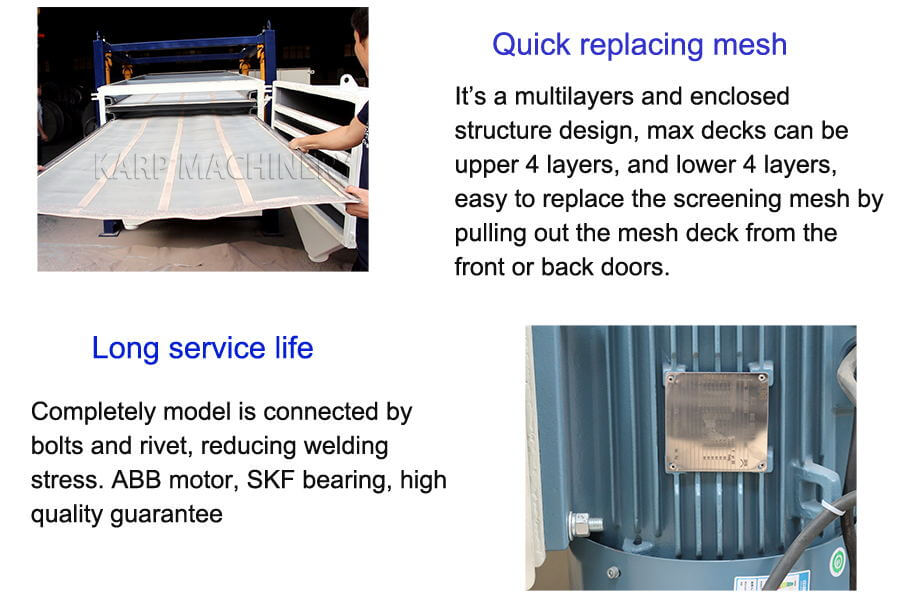 Allowing for one minute screen changes, can be performed from the feed of the machine. These features significantly reduce equipment downtime, leading to greater production capacity.
The whole sieve box of the vibrating screen is connected by the universal axis, when the sieve machine does the rocking movement, the universal axis also follows the rotation, plays the role of buffering to the rotating power, damping, so that the whole sieve machine runs more smoothly.
Particle absorbed on the mesh line be break up by cleaning systerm, then particle pass through mesh hole easily. Cleaning systerm guaranty the capacity and accuracy.
ABB motor KARPMACHINERY make strict inspections before producing, during producing, before shipment. Inspection item include mesh size, mesh cloth tension, motor temprature, dimesion, noisy, vibration amplitude ect.Inspection reach ISO 2194 Wire screens and plate screens for industrial purposes Nominal sizes of apertures.